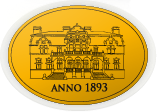 Bara 20 minuter från Stockholm C | Hitta hit
In English


The Castle of Ljunglöf
Ljunglöfska Slottet, "The Castle of Ljunglöf" offers the perfect balance between modern amenities required by today's discerning business traveller and the welcoming ambience of a grand yet comfortable historic house.
You will find that we can cater for any number of different events, from breakfast meetings, seminars, workshops, corporate dinners, weddings and Christmas parties, to Board meetings.
Banquets
The beautiful setting of Ljunglöfska Slottet makes it an ideal location for any occasion from a wedding to a traditional Sunday lunch. For banquets and private dinners (up to 70 persons) we can offer salons and the magnificent dining room on the ground floor. Smaller intimate gatherings can be accommodated on the second floor where 35 guests may be seated in the same dining room. We can accommodate as many as 120 guests. Our many dining options will ensure that your special event is a truly memorable experience.
Business
Seminars and conferences may be held on three different levels in the Manor House. On the third floor our largest conference room holds up to 40 people (theatre style) and smaller ones suited to events for few guests. The second floor dining room can serve as a meeting room for up to 24 persons. This exquisite conference room, together with the range of private dining and recreation areas, provide an ideal distraction-free environment for corporate events where privacy is at a premium. Ideally situated on the ground floor, the meeting room for 18 persons is also suitable for disabled use. All meeting rooms are well-lit and comfortable. They have audio visual equipment as a plasma TV screen and data projector. Overhead projection, whiteboard and flipchart, TV-video systems are also available. Our conference centre offers wired and wireless internet access in the whole venue. Our visitors can connect to the internet for free while using their own computer. Refreshments (soft drinks, sweets, mineral water and fruit) are also available.
Overnight accommodations
The hotel is housed in the building from the later 1920-th and still retains the character of the original architecture mostly outside. Inside offering all modern facilities that a business or leisure traveller would require. All 29 rooms are non smoking rooms. Equipped with shower, WC, hair dryer, radio, cable-TV, and direct dial telephone. Access to the internet via your laptop. Suite includes mini-bar and Jacuzzi. Free guest parking. Refrigerator and coffee/tee machine in the breakout areas. A warm friendly atmosphere, good cuisine, and excellent service make you feel as though you were at home.
The ideal destination
You'll find us in the north-western part of Stockholm easily accessible within 35 minutes drive from the international Arlanda airport or about 10 minutes from Bromma Airport. Our location provides easy access to the town: it takes you about 20 minutes to get from the centre of Stockholm by subway. From the central station, T-Centralen to the station T-Islandstorget. The green line towards Vällingby-Hässelby. Then by bus 113 or a 10 minutes' walk to the Castle.
Please check out our position in the map.
History
When Knut Fredrik Ljunglöf (1833-1920) took over his father's tobacco business in 1860 the property was valued to 850 000 old Swedish crowns. At the end of the 19th century, tobacco and wet snuff (Swedish snuff characteristically has a high degree of moisture) were manufactured by his firm. His success resulted in his concern becoming one of Sweden's largest snuff and the Europe second largest tobacco business. Like many of the rich and well-to-do people, Ljunglöf left the city during the summer months. Since he already owned much of the western suburbs of Stockholm, he chose to erect a large villa there, on the shores of Lake Mälaren. Later on the villa came to be known as "slottet" ("the palace"). This colonial Portuguese-Spanish style mansion with natural stone ornamentation was finished in 1893 having taken four years to complete. Surrounding the mansion is a beautiful garden with fountains and trees such as cypress, "blood beach" and silver fir.
Read more about Knut Ljunglöf and snuff.
Today
The home of the Ljunglöf family, Ljunglöfska Slottet has been preserved with gorgeous interior reminiscent of those times. Best preserved is the ground floor interior, which features the salons and a magnificent gilt leather clad dining room. The stuccowork both in the vestibule and salon is also very impressive. A lovely rounded staircase leading to the second floor features wood panelling and stained glass windows. Upstairs, the private family rooms have been transformed into facilities which can be used for dinners, private parties or other events.